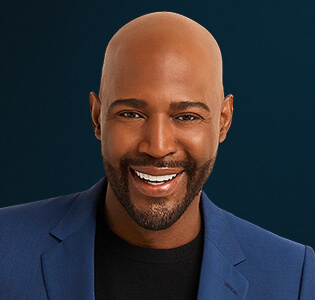 Karamo Brown
Host
The Emmy nominated host and Culture Expert on Netflix's international hit series Queer Eye, Karamo is a "sympathetic talk therapist wrapped inside a life coach and zipped into a fast fashion bomber jacket…" according to The New Yorker.
A lifelong dream and achievement, Karamo is launching his daytime talk show, "Karamo," in fall 2022, produced by NBCUniversal Syndication Studios. The show will tape in Stamford, CT and will premiere in more than 90% of country.
Karamo draws from his work in social services to show how he both discovered and learned to explore his many different "identities". Whether as a black man, openly gay man, a son of immigrant parents, a Christian or a single father; Karamo strategically utilizes the strength of his numerous identities to achieve success – and teaches others to do the same.
As an actor Karamo recurs on Netflix's final season of the hit dramedy series Dear White People. He starred in Freeform's first gay rom-com The Thing About Harry and guest stars in TBS' Miracle Workers.
Available through Luminary, Karamo's Podcast, Karamo, is an in-depth look at life's thorniest issues. The show also includes special interviews with his celebrity friends who share personal moments from their lives with Karamo.
His memoir, "Karamo: My Story of Embracing Purpose, Healing, and Hope," explores how the challenges in his own life have allowed him to forever transform the lives of those in need. His best-selling children's book, "I Am Perfectly Designed," is an empowering mantra for kids and adults to embrace authenticity. The beautifully illustrated book is co-authored with his son, Jason 'Rachel' Brown. Their second installment "I Am Okay To Feel" is released fall 2022.
In 2004 Brown was one of the first openly gay African-American in the history of reality television's iconic series The Real World.
Shortly after the conclusion of The Real World, Karamo learned that he was a father of a nine-year-old boy, Jason. With the support of his child's mother, Brown petitioned and gained full custody of his son. A year later, Karamo adopted Jason's half-brother, Christian.
Karamo was the recipient of the 2018 Human Rights Campaign Visibility Award.